Town of Hamilton
---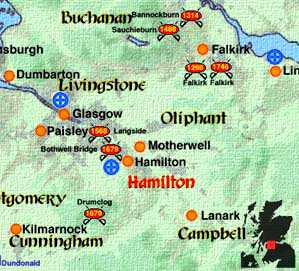 In the 6th century, Rederech was the ruler of Strathclyde, an ancient Kingdom of the Britons with its capital at Dumbarton. His stronghold was a fortress positioned dramatically on Dumbarton Rock, a massive volcanic plug. According to legend, Rederech's summer hunting lodge lay east at Cadzow, where St. Mungo converted him to Christianity in 568.
The ancient burgh of Hamilton was originally known as Cadzow, an Anglicization of the Celtic name "Cadihou," which means "beautiful castle." King David I of Scotland made Cadzow a Royal Barony in the 12th century. Later, King Robert the Bruce gave the Barony to Walter FitzGilbert of Hameldone, the first Scottish Hamilton.
Since 1455, the town has been called Hamilton, after its most prominent landowning family. A Willem Blaeu map of Scotia Regnum from 1635 depicts the town of "Hamiltoun cast" lying adjacent to the "Avin" River, just down the road from "Glasquo" and "Bodwell."
Situated near the industrial city of Glasgow, Hamilton provides the opportunity to visit historical Chatelherault, the hunting lodge of the Dukes of Hamilton, and the Hamilton Mausoleum, which boasts the longest echo of any building in Europe.
Although magnificent Hamilton Palace was demolished in the 1920's due subsidence from mining, many treasures from the Palace were transferred to the present family seat at Lennoxlove. Most prized is the 15th century French silver casket given to Mary, Queen of Scots, by her first husband, the Dauphin of France. It is this casket that reportedly contained the incriminating letters that led to her imprisonment and eventual beheading. Also on display is her death mask. Located near Haddington, about 17 miles from Edinburgh, this 2,287 acre estate is open to the public on some days of the week
---
Clan Hamilton Home | Maurice Hamilton Photography | MauriceHamilton Home